Diamond cut wheel refurbishment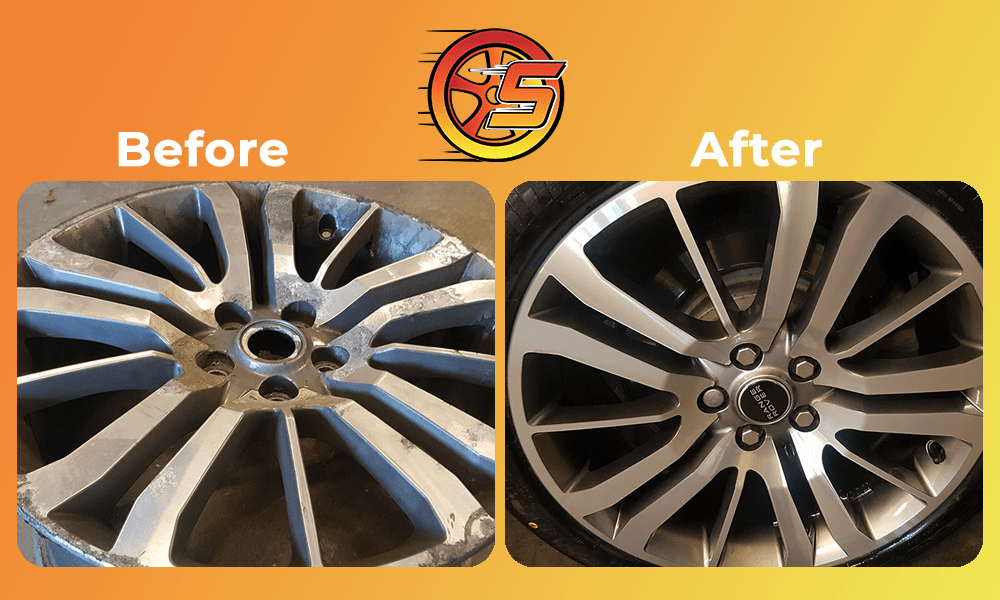 Starting from just £80 per wheel
Although powder coating is Speedy's most popular and durable alloy wheel refurbishment service, diamond cut finishes are also a very desired finish. Many cars are fitted with diamond cut finished wheels.
Speedy's can reproduce this finish. Diamond cutting is a very precise process and takes longer to reproduce than a powder coat refurbishment. The refurbishment of a diamond cut wheel is impossible to do as a touch up/ mobile as it requires the use of lathe.
Corrosion in diamond cut wheels is very common, applying lacquer to a polished surface simply defies gravity it is very difficult to achieve a long lasting finish when applying lacquer to a shiny surface, small stone chips allow water in behind the lacquer and in time causes the lacquer to deteriorate and appear cloudy.
Diamond cutting involves removing a thin layer of alloy from the wheel using specialist lathing equipment. Diamond cut wheels can only be refurbished a number of times as too much alloy would eventually be removed. You may wish to consider our powder coat refurbishment as a durable and long lasting refurbishment method instead. There is no warranty offered on this product.
With our bespoke in house diamond cutting lathe we will provide you with the highest quality finish and the quickest turnaround time.
Get an instant quote
Send us details and a picture of your wheels and we will send you an instant quote.
Alloy Wheel Refurbishment
Speedy's alloy wheel refurbishment service is available at all our branches. All the branches also offer the following; wheel revamp, rim straightening, cracked wheel repair, bead corrosion, kerbed wheel as well as brake and caliper spray.
Wheel refurbishment start from £50 a wheel for a full refurbishment, £80 for a Diamond Cut Alloy and £25 for a smart repair.
This process can take up to 5 working days but we can provide a set of loan alloys in the meanwhile with no additional charge.
Speedy's popular alloy wheel refurbishment service is now offered in:
Bradford (Thornton Rd, Bradford BD8 9BS)
Burton ( Hawkins Lane, Burton On Trent, DE14 1PT)
Derby (City Centre, London Road & Osmaston Road)
Leicester (Freehold Street, LE1 2LX)
Nottingham (Canal Street, NG1 7HB)
Walsall (Littleton Street West, WS2 8EW)
Get an instant quote! Call Us Now on 0330 088 7963